The future of Houston's health Is within each of us.


Each and every one has a responsibility to share any event that can have an astounding result to mankind.

This is where each practitoner of BodyTalk™ is all heart. Those whom take this challenge to awaken the healing experience will reap the rewards of life worth living.


A life is so precious when there is happiness. This is our goal let us help to make it yours.

Houston Training Class

Experience a session for yourself. Contact A local practitioner and find out what others have found so rewarding.
Start Now, take the initiative today, so your health will be stronger tomorrow.
Tap Tap into the energy source, your body and let it talk for itself. After all, it's those whom listen intuitively are, the ones whom learn the most.

Send an email
Total cures or Improvements is not your question It's your answer
If your searching for something here it's probably because you couldn't find it somewhere else. This is an ever-expanding modality that awakens the mind while strengthening the body.
Is it Fatigue,Infections, Allergies, Stress, emotions or another life threatening system?

Our health practitioners are finding more and more exciting results every day. Most sessions may take on the average of an hour. Think of the possibilities of finding relief in a few days rather than months when concerning some illness.

The honest fact is, finding the reason for the illness is not such a priority as finding the client healthy after BodyTalk™ treatments!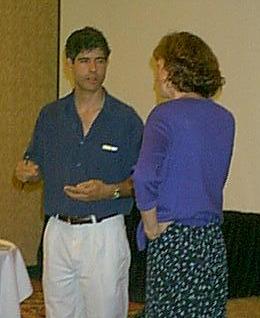 Let's Tap Tap it out


Ernesto J. Fernandez Seminars Inspire the explorer in us while challenging us to conquer man's disabling diseases.
Send an email